Logis Hotel Restaurant in Brantôme in Dordogne Périgord. Heated swimming pool, spa, free wifi…
Logis Hotel Restaurant in Brantôme in Dordogne Périgord. Heated swimming pool, spa, free wifi…
Welcome to the Hostellerie du Périgord Vert
With our team, we have been welcoming you for more than 20 years at the Hostellerie du Périgord Vert. Our hotel-restaurant, Logis since 1986, is located in Brantome (200m from the Abbey) in the heart of the Périgord Vert in the north of the Dordogne (very close to the castle of Bourdeilles, the Villars cave…).
Our restaurant offers you a local cuisine in complicity with our local producers.
Come and savour the Périgord, its splendour and its flavours during your stay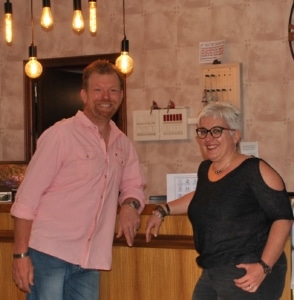 Our hotel is located in the heart of Brantôme in Périgord: "the Venice of Périgord" as President Poincaré called it in his time. It is appreciated for its charm made of authenticity and simplicity, its shaded terrace and its heated swimming pool which call for rest and relaxation.
Our Logis – Restaurant de Terroir and Hôtel Essentiel – has a private, closed car park, located just behind the hotel. There are also charging points for electric cars (1 standard Type II + 1 Tesla fast charging point).
Our rooms in the heart of Brantôme
Stay at the hotel in one of our 23 rooms, in a green setting with a heated swimming pool. The hotel's rooms are all equipped with a shower or a bathtub, toilet, flat screen TV. All rooms are non-smoking. For your convenience, a telephone, free Wi-Fi and a desk area are available. By using our website you can book at the best price.
The 23 hotel rooms, 2 of which are accessible for disabled guests, overlook the green inner courtyard or the hotel's heated swimming pool.
Our standard rooms, wrapped around the terrace and the pool, have a shower or a bathtub. You can choose between a 160 cm or 180 cm bed or a 90 cm single bed.
FROM € 82
Need more space and autonomy?
You can choose our Comfort rooms: their larger surface, their 180 cm bedding, their numerous storage spaces and their larger bathroom will delight you!
FROM € 93
Ideal for a family trip, our Family Duplex has a large double bed and bunk beds for your children. You also have a private terrace overlooking the pool.
FROM € 126

Hostellerie du Périgord Vert
Hotel Restaurant in Brantôme in Périgord
In the morning we serve our traditional breakfast consisting of a hot drink, organic apple juice, organic farm yoghurt, fresh baguette and toasted country bread and, as an added bonus, homemade pastries and jam.
During your holiday, you can enjoy the hotel's outdoor swimming pool, which is heated in season (May to September), as well as a shaded terrace.
You can also enjoy a relaxing moment in the SPA where a jacuzzi awaits you.
Whether you are staying at the hotel or just passing through Brantôme in the Périgord, our restaurant welcomes you either in its bright room or, weather permitting, on the shady terrace to offer you local cuisine, prepared by us.
View the restaurant menu »
Brantôme in Périgord, the Venice of Périgord
A former stopover on the pilgrimage route to Santiago de Compostela, Brantôme-en-Périgord, gateway to the Périgord/Limousin Natural Park, is a charming village located a few kilometres from Périgueux, in the north of the Dordogne department and close to magnificent tourist sites and the most beautiful villages in France.
– Brantôme Abbey and its troglodyte remains
– The prehistoric cave of Lascaux
– The castles of Bourdeilles, Puyguilhem and Mareuil (listed historic monuments, open to the public), – The Villars cave,
– The towns of Périgueux, Nontron or Saint-Jean de Cole, less than 30 minutes away.
Nature lovers and sports enthusiasts can also take part in many activities such as canoeing and kayaking.
See all activities »
La Dronne, vue depuis le Pont Coudé – Brantôme en Périgord
Nous sommes à votre service pour vous offrir la meilleure expérience possible lors de votre séjour à Brantôme en Dordogne Périgord.
Hostellerie du Périgord Vert
Hôtel Restaurant in Brantôme in Périgord
Our commitment to the planet
It is no secret that human activities have a very negative influence on the state of our climate, our planet.
It is urgent that everyone, through their daily actions, takes care of our irreplaceable common heritage.
For several years now, we have been trying to reduce our ecological footprint, both in the restaurant and in the hotel, through small, simple gestures.
In the restaurant, we have been favouring short circuits and "home-made" food for years: we are lucky enough to have excellent local producers of meat, eggs, dairy products, fruit and vegetables… on which we rely to offer you a cuisine with a local accent. We don't serve hamburgers or nuggets with chips: you'll enjoy a duck breast or leg of duck confit, or a fine piece of Limousin beef accompanied by good fried potatoes and seasonal vegetables!
As for breakfast, we have abandoned the individual packages of sugar, chocolate and honey: they are self-service next to the cereal dispensers and the fruit bowl. Even the spreads are homemade!
In the hotel, we have decided to abandon disposable plastic glasses in favour of cups that we wash every day. Similarly, we have switched from individually wrapped soaps and shower gels to refillable dispensers. The taps are fitted with aerators and the shower heads are water-saving.
To improve the comfort of our rooms without having to resort to air conditioning, an ecological aberration if there ever was one, we re-insulated the attic and installed insulating blinds and shutters (in addition to double glazing) to combat the heat.
We have also made a choice that some may find retrograde but which we fully accept: we do not put duvets in our rooms!
Why should we do this? A duvet cover represents the same amount of fabric as 2 flat sheets: having duvets would therefore increase the volume of bed linen to be washed by a third for each bed and therefore increase the amount of water, detergent and energy needed for cleaning. And the hotel does not have two or three rooms: we have 23 rooms! The choice of sheets instead of duvet covers therefore allows us to reduce the hotel's carbon footprint by limiting the amount of energy, water and detergents used on a daily basis. You will therefore find in our rooms the traditional bedspreads, blankets and flat sheets, even if this may seem contrary to current fashion.
That's it, we're going to stop here our inventory of small daily gestures for the planet: we could add the maintenance of the garden without pesticides or phytosanitary products, the sorting of our waste, the making of our compost, the recycling of used materials, etc…
We hope that you will understand and share our approach: we welcome any suggestions you may have to help us in our eco-citizen approach.